10th Annual Twilight Run & Walk
Undeterred by grey skies and intermittent rain, 334 runners and walkers embarked on the 10th Annual Twilight Run, held April 22, 2017. The family-friendly community event included a one-mile Elementary Challenge, a 5K Run, and 5K Walk. Chatham Park Elementary prevailed in this year's Elementary Challenge.
Historically the largest source for funding for the Haverford Township Education Foundation (HTEF), this year's event netted $25,483, and proceeds will seed the Jane McConnell Greenspun Memorial Technology Grant. Jane was committed to the education of Haverford Township students for over 23 years, serving as the school district's Director of Technology at the time of her death in August 2016. The new grant honors Jane's creativity and dedication in support of HTSD students and staff.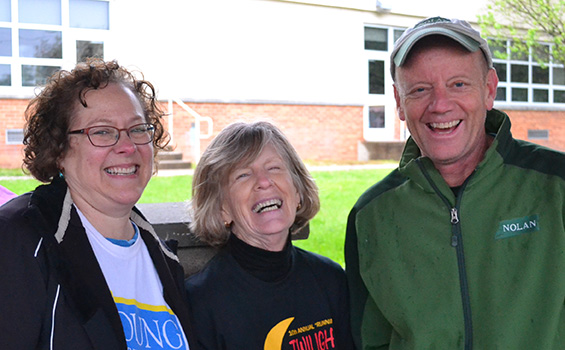 From left: Ellen Fisher, MaryBeth Lauer and Kevin Nolan started the Education Foundation's Twilight Run 10 years ago.
New features at this year's Twilight Run included a Finish-line Fun Zone for young children, including face painting, 2 moon bounces, field games and crafts, a water ice truck, and live music from several talented HHS musicians.
The HTEF is extremely grateful to over 50 local businesses that provided in-kind donations of incentives for runners, food and beverages for the event, incentives for runners, Party on the town offers for all participants and monetary support.
For the complete list of runners with times, visit the Run the Day website for overall winners and the 1-mile challenge winners.
The Haverford Township School District Education Foundation was created to enhance the district's curriculum and extra-curricular activities, by funding innovative learning opportunities that inspire our students. To date, over $300,000 has been donated through mini-grants of approximately $1,000 and larger-scale empowerment grants of approximately $20,000. Learn more at the Education Foundation's website.
Please plan to join the fun next April at the 11th Annual Twilight Run!
Highlights from the 10th Annual Twilight Run & Walk:
The Haverford Township School District Education Foundation is the result of the vision of local community leaders who wished to enhance the school district's curriculum and activities with privately-funded enrichment programs for students in the district. Each year, we present our Twilight 5K Run, Walk & 1-mile Kid Challenge as a community event and fundraiser.
The HTSD Education Foundation also encourages families to honor teachers, staff members, graduating seniors and others who value public education through our Tribute Donations.